Arizona Ranks 6th In the Nation in Construction Career Demand
Women Needed More Now Than Ever Before
The Greater Phoenix Chamber Foundation's construction workforce collaborative, Build Your Future Arizona is proud to recognize the following women who are building impactful careers in construction and skilled crafts. Their work plays a vital role in helping our region's workforce continue to grow.
Nominated by their employers, these women's work experience runs the gamut from skilled craft apprentices to Vice Presidents at some of Arizona's largest construction companies.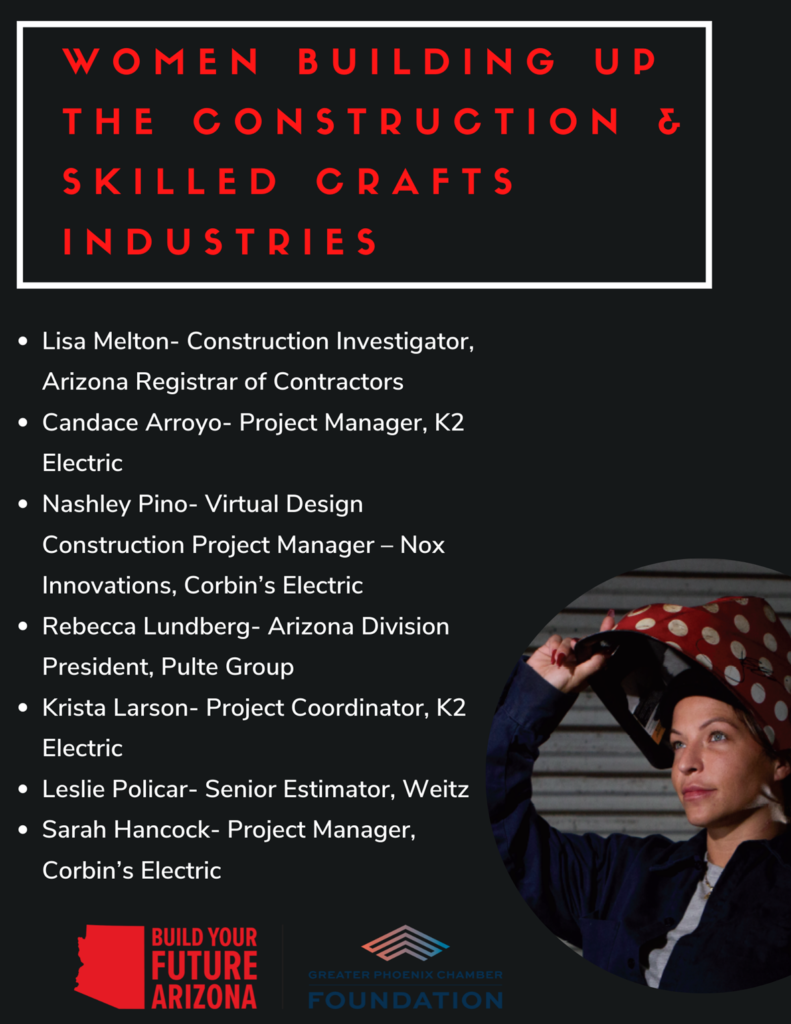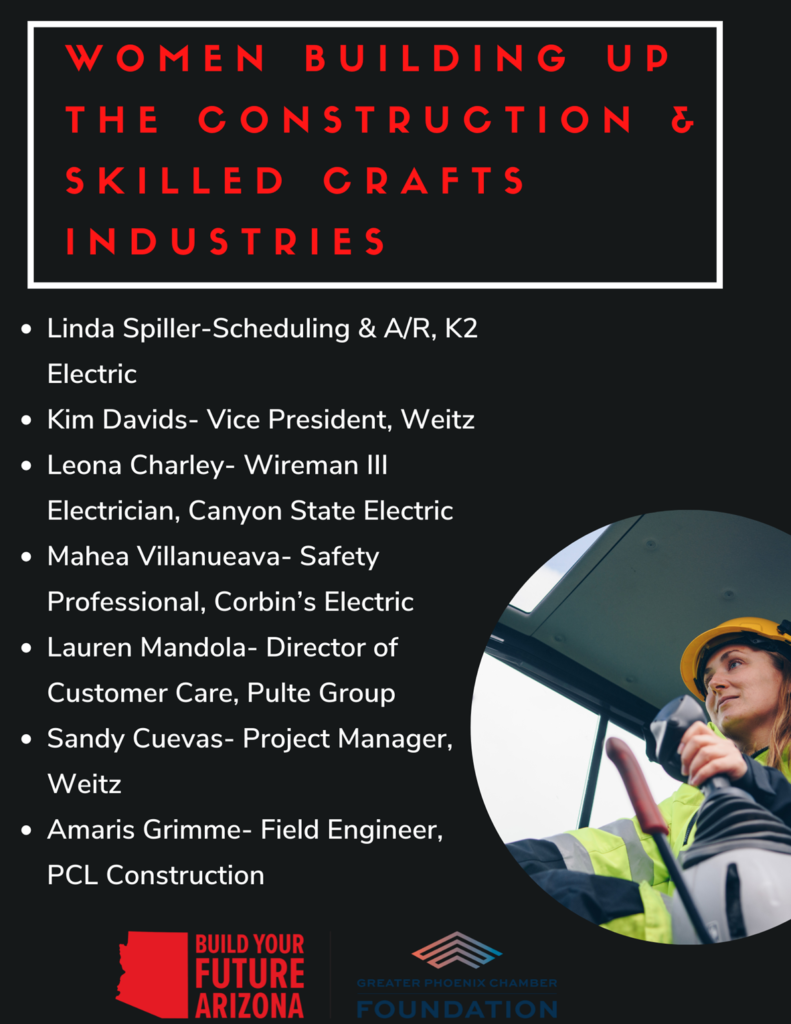 Ranking 6th in the nation for in-demand careers, Arizona needs to fill nearly 300,000 construction positions in the next two years.
With rapid growth comes endless opportunities for women to break into the industry, narrowing the gender gap in traditionally male-dominated construction careers. About 13% of construction firms are now owned by women, proving a 94% growth since 2007. Meanwhile, companies are adding more women to executive and chef-level positions. Of the top 100 construction companies, 44 have executives who are women.
"I continually hear from construction recruiters that they want to bring more women into the industry," says Paul Sanders, Build Your Future Arizona Workforce Manager at the Greater Phoenix Chamber Foundation.
A career in construction offers competitive salaries, networking opportunities, and countless opportunities to join and rise to the top of the industry.
For example, the residential construction industry is one of the few sectors where demand for new workers has risen with unfilled jobs in the construction sector reaching a post-recession high earlier this year. Plus, the National Association of Home Builders survey found shortages of labor in various types of construction jobs including framers, carpenters, plumbers, electricians, and bricklayers.
Currently, there are hundreds of available construction positions in Arizona. To search available jobs click here or visit Build Your Future Arizona Career Center: https://careers.byfaz.org/.
About Build Your Future Arizona: 
Build Your Future Arizona's mission is to create a sustainable and skilled craft workforce by creating awareness about high-paying construction careers, training opportunities, and mapping career paths to employment in these high-demand occupations. Build Your Future Arizona is led by an industry steering committee made up of leading employers who have invested in our effort to inspire the next generation of craft professionals to construct a career.
Women in Construction:
Click here to visit the National Association of Women in Construction – Greater Phoenix Chapter website to learn more about local opportunities and resources for women working in construction.